This may turn into a part 1 post, since I'm only halfway done with my trip to this medieval city. Plus I still need to talk about events this week.
So what happened this week? Wednesday was a big day. Dr. Lev took us to the Vatican Museum complex for about 3 hours, which was mind-blowing. The museum system is so huge, it's humanly impossible to cover it all in one day. We concentrated on a few statues and exhibits in the main Belvedere Palace, which houses the famous Laocoon statue, among other works: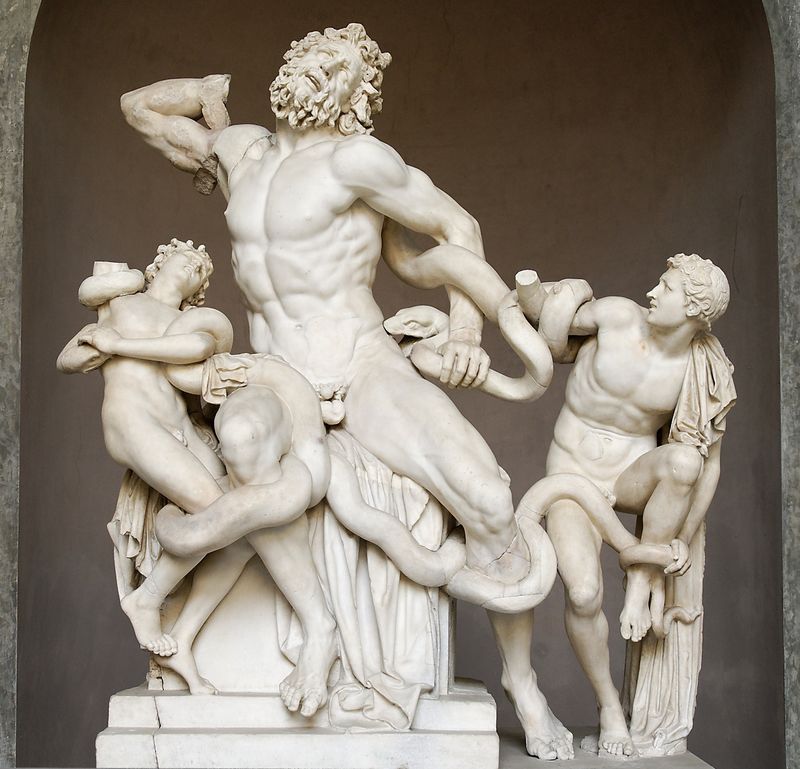 Getting to see this statute, especially after reading The Aeneid, which made this work famous with its description of Laocoon and his sons' deaths, was utterly satisfying. For those of you unfamiliar with the story, Laocoon is a Trojan priest who warns against letting the Trojan horse into the walls. To punish him, the gods send two sea serpents that kill him and his sons. The statute captures that moment of writhing muscles, limbs, and scales. The statue is early Greek, and was a huge inspiration to Michelangelo.
And, of course, there's the Sistine Chapel. I could have spent three times as much time there as we did. We really only discussed in depth some parts of the ceiling's Genesis story plus the Last Judgment on the altar wall. After reading a book about the painting of the Sistine Chapel over winter break, I was able to really appreciate what I was looking at.
We saw more: The Disputations and The School of Athens frescoes by Raphael, the Apollo Belvedere statute, a bunch of statues and vases…but describing them would take all day. It was in the Vatican Museums, actually, that I decided I to switch my major and minor. Yes, after a year and a half of pondering this decision and working towards my Religion major, I'm switching to a Classics major, Religion minor. Ever since the beginning of my sophomore year, little signs have been pointing me towards Classics as a major. It took me coming to Rome to finally cave, simply because you can't live in Italy without embracing the humanities, and you can't embrace the humanities without the Classics. Of course, my program is quite far from a Classics program, but that's ok. I still like all my classes. I'll have to take almost solely Classics courses when I return to Wabash, but that's completely fine with me.
There was also a cute gift shop inside the Vatican Museums, which will be a potential source for gifts/souvenirs. I plan on going back anyway, since we breezed through so many rooms.
Anyway, earlier this morning, I took a bus from the Tiburtina station in Rome to Siena. The bus ride was fantastic. It was much quiter than the train and, surprisingly, quite a bit smoother, simply because we weren't halting to a stop and riding at an incline before every train stop. It wasn't much more expensive, either. I met up with the Wabash group a few minutes after arriving. We spent an hour walking through Siena and talking about its geography, politics, and how the two intertwine, demonstrated by the spaces we were walking through. It was a little different tagging along this time, because, unlike Florence, it was my first time in Siena, too. I can now understand how impatient the guys are to explore.
We had lunch at il Torre, which is right by the famous Campo of Siena. The Campo is a huge bowl-shaped piazza, apparently the best piazza in Italy. Every summer, thousands cramp in the middle for a horse race around the edges. Nowadays, its a place to relax, people-watch, and, in the case of tonight, buy artisan chocolate. I spent my minute amount of remaining change on some truffles.
Then, we went through the actual Torre: the tower, which served as the city hall of Siena. Inside are lots of frescoes, including the famous "good government vs bad government° panels:
In fact, I'm staying at Dr. Cook's apartment in Siena tonight. I'm typing on his computer. To my right is a lampshade with this very image. This apartment, though small, is like a shrine to Dr. Cook: all the piles of books and clothes you would expect. Everything about him is here, except himself.
With that, I leave you. Tomorrow morning my program is coming here. (Yes, in case you were wondering, I had other reasons to come to Siena besides the Wabash group). I'm meeting them at San Domenica tomorrow morning. I'm not completely sure what we're doing tomorrow, though I know it involves the head of Catherine of Siena and I hope it involves going inside the Duomo, which I only marveled at from the outside. We're eating picnics tomorrow, so I bought some prosciutto and bread from a local grocery store, to go with some cheese and apples I brought from Rome.
PS: The Wabash group goes home tomorrow. They spent a week in Italy but will go back to Wabash. I would sure go for a week at Wabash right now, as long as I returned here for a few more months. Since I can't do that, the immersion class brought Wabash to me. Thanks guys.